Uncategorized
15 Book-to-Screen Adaptations to Read Before the End of the Year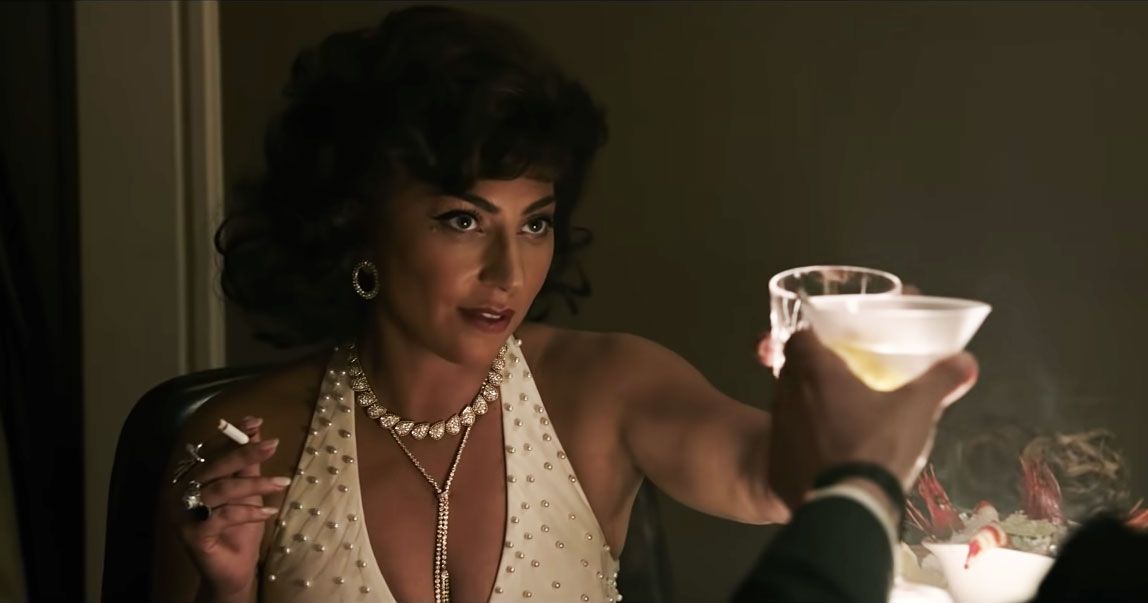 Photo: United Artists Releasing
While the remaining months of 2021 continue to dwindle, there's no shortage of page-turning stories making their way onto our screens. Novels, memoirs, and comics are the rich and original source material for 15 recent and upcoming debuts premiering before the end of the year, ranging from thrilling murder mysteries (​​House of Gucci ) to epic fantasies (Dune) to affecting familial melodramas (The Lost Daughter). Whatever your preference, the next handful of months is bound to have something to your taste. Here are the book-to-screen adaptations to look out for before we wrap up 2021.
Photo: Publisher
Maternal resilience takes center stage in Maid, a poignant story that vanquishes stereotypes surrounding domestic workers, single mothers, and poverty. Following the turbulent journey of a single mother desperately trying to lay the foundations for her daughter's life, this personal and unflinching memoir is an exhaustive insight into the frustratingly arbitrary government support programs that add work to her days — which are already filled with enough demands to be debilitating. As a cleaner for upper-middle-class clients, she becomes the eyes and ears of the house. While they know nothing about her, she comes to know everything about them.
Maid, starring Margaret Qualley, Andie MacDowell, and Nick Robinson, is streaming on Netflix.
Photo: Publisher
Told over the course of two decades, Hulu's Dopesick unravels the intricate web of interpersonal and business relationships at the epicenter of America's struggle with opioid addiction. In particular, OxyContin, an opioid medication created by Purdue Pharma, is the focus in this examination of how one company's influence decimated lives and communities across the USA. Following the drug's placement in local doctors' offices, Big Pharma boardrooms, and the United States Drug Enforcement Administration, this is not only a contextualization of the epidemic but a reflection on the people overseeing the undeniably devastating effects of the commonplace drug.
Dopesick, starring Michael Keaton, Peter Sarsgaard, and Michael Stuhlbarg, is streaming on Hulu.
Photo: Publisher
This medieval French drama is centered on the last official trial by combat, a judicial duel, fought in France. The battle is between two noblemen, once best friends but now sworn enemies, as Jean de Carrouges's wife claims she has been raped by his friend. Carrouges is the only person who believes his wife's testimony and demands a fight to enact revenge and bring justice in her name. Approved by the King, the duel's winner will be the last man standing … no pressure at all!
The Last Duel, starring Matt Damon, Ben Affleck, Jodie Comer, and Adam Driver, is playing in theaters.
Photo: Publisher
Denis Villeneuve's long-awaited intergalactic epic is the first part in the adaptation of Frank Herbert's 412-page seminal sci-fi novel Dune. It takes place in a futuristic feudal society in the year 10191, where noble houses battle to colonize resources and power. When a potential new messiah emerges, can they deliver the fate of the galaxy into a new era? Between monstrous sandworms and a hallucinogenic drug called spice, this tale of familial legacy is complete with sublime mysticism.
Dune, starring Timothée Chalamet, Oscar Isaac, Zendaya, and Rebecca Ferguson, is playing in theaters and streaming on HBO Max.
Photo: Publisher
In 1920s Harlem, a reunion between two childhood best friends — Clare and Irene — unlocks a taut tale of race, class, and personal insecurity. Clare, passing as white and married to a wealthy white man who is unaware she is Black, confronts her relationship with identity in the fallout of a chance meeting with Irene. Though their friendship blossoms, both must tread carefully in each other's lives so as not to disturb the peace and social standing each has established. Easier said than done.
Passing, starring Tessa Thompson and Ruth Negga, will be streaming on Netflix November 10.
Photo: Publisher
It is Mother's Day in 1924, the single day over which the entire deeply affecting story of Mothering Sunday unravels. Twenty-two-year-old Jane is employed as a maid at a Berkshire estate; orphaned as a baby and working since she was 14, she inhabits an unstable place in the world with no roots to pin her down but no foundation for her to lean back on. In the midst of a doomed affair with a young well-to-do heir, an earth-shattering revelation destroys everything Jane has ever held dear.
Mothering Sunday, starring Josh O'Connor, Odessa Young, Olivia Colman, will begin a limited theatrical release November 19.
Photo: Publisher
The expansive sci-fi universe of The Wheel of Time — there are 14 volumes in total — is packed with myths, legends, and magic women. In this detailed imaginary world, the leader of a magic organization is on the hunt for a reincarnated dragon who possesses the power to save or destroy their world. With an ancient evil brewing in the background, the stakes could not be higher in this epic and intricate fantasy that is often shelved beside the likes of J.R.R. Tolkien's The Lord of the Rings.
The Wheel of Time, starring Rosamund Pike and Josha Stradowski, premieres on Amazon Prime November 19.
Photo: Publisher
Who killed Maurizio Gucci? It's a question that pervades every corner of this gripping account of the rise and fall of the glittering Gucci dynasty. Was it his ex-wife Patrizia Reggiani, reclaiming control? Or is she entirely innocent? Either way, she knows the truth. Based on a ​​wild true story with diamonds galore, House of Gucci is a dazzling tale of personal tragedy interwoven with one of the greatest high-fashion family businesses of all time.
House of Gucci, starring Lady Gaga, Adam Driver, and Jared Leto, hits theaters November 24.
Photo: Publisher
Though not a traditional novel, the acclaimed 22 issues of Hawkeye do make substantial source material for the upcoming Disney+ Marvel series. Self-made hero, master archer, and expert crimefighter Clint Barton is down on his luck and taking time away from the Avengers. However, the lone crime-fighting agent is not out of work. He's kept on his toes with the bad guys — a faction of the European mafia and a killer clown — on his block, the help of young avenger Kate Bishop, and battling his own psyche.
Hawkeye, starring Jeremy Renner and Hailee Steinfeld, premieres on Disney+ November 24.
Photo: Publisher
Life is simple for the Phil and George Burbank in 1924 Utah: The cowboy brothers tend to their cattle farm to continue the legacy of their family ranch. Then, unexpectedly, George marries a widow and brings her and her son home to live on the ranch. Phil, quietly menacing, clashes with George over the new arrivals — a rift that rots the root of their relationship. Their home becomes a battlefield as resentment builds and Phil begins a relentless scheme to push out his brother's new wife. At the heart of this bristling psychodrama is a complex and gripping examination of masculinity.
Power of the Dog, starring Benedict Cumberbatch, Kirsten Dunst, and Jesse Plemons, will be streaming on Netflix December 1.
Photo: Publisher
Hustlers, grifters, and femme fatales at a sleazy carnival — what more do you need from Guillermo del Toro's adaption? This psychological thriller follows Stan, a mentalist who has graduated to a spiritualist, deceiving the rich and gullible audiences of a travelling fair. Onstage, he commands attention, but behind the curtain is a dark reality for the glorified con man. Delving further into this nightmarish underworld that he adamantly proclaims himself separate from, is he deceiving those around him or only himself?
Nightmare Alley, starring Cate Blanchett, Rooney Mara, and Bradley Cooper, hits theaters December 17.
Photo: Publisher
Arriving on the sun-drenched Italian coast, everything should be breezy for Lena, a middle-aged English professor. She finds herself, for the first time in 25 years, without obligations or responsibilities now that her daughters have moved to Toronto with her ex-husband. Her liberty, however, is soon interrupted by an event that causes her to tumble down her memories of early motherhood. Confronting her unsettling past, Lena must rediscover herself as she reviews her life choices. The Lost Daughter is a profound meditation on the identity of motherhood and a candid reflection of the innate mother-daughter bond.
The Lost Daughter, starring Olivia Colman, Dakota Johnson, and Peter Sarsgaard, will be streaming on Netflix December 31.
Photo: Publisher
There's a multitude of reasons why Shakespeare's Macbeth remains a plot in circulation today; prophecies, murders, and paranoia, the Scottish drama has it all. Nobleman Macbeth has ambitious political goals to become King of Scotland, and, with the aid of his wife, he's willing to do whatever it takes. A tale that has spanned centuries, contemplating the psychological consequences of an unbridled craving for power, the legacy of Macbeth still stands strong.
The Tragedy of Macbeth, starring Denzel Washington, Frances McDormand, and Brendan Gleeson, hits theaters December 25 and will be streaming on Apple TV+ January 14, 2022.
Photo: Publisher
This YA epistolary novel sees 15-year-old Tess attempt to negotiate her life, racked by guilt, in the wake of her sister's death on 9/11. Through Tess's youthful gaze, her parent's decaying relationship falls apart, she engages in a burgeoning summer romance, and she charts the emotional process of moving out. Every encounter and new venture, however, is tinged by the memories of her sister as the ripples of loss continuously wash over her. As she tries to rebuild her life after such devastation, will she ever truly be able to move on?
Dear Zoe, starring Sadie Sink, Jessica Capshaw, is slated for a 2022 release.
Photo: Publisher
One evening, a young woman, our unnamed protagonist, leaves work to have sex in an underground parking garage with a stranger. It is a seemingly sudden interruption of her otherwise quiet life. Yet from this moment, she is utterly hooked on pursuing a purely sexual relationship with the ex-criminal (it's never quite clear what he did, but he's repeatedly and worryingly violent). With a stark and explicit approach to sex, violence, and drugs, True Things delves into the harsh realities of two very different addictive personalities.
True Things, starring Ruth Wilson, Tom Burke, and Hayley Squires, is slated for a 2022 release.
Source link