Uncategorized
Who are the Eternals? Get to know the Marvel Cinematic Universe's newest heroes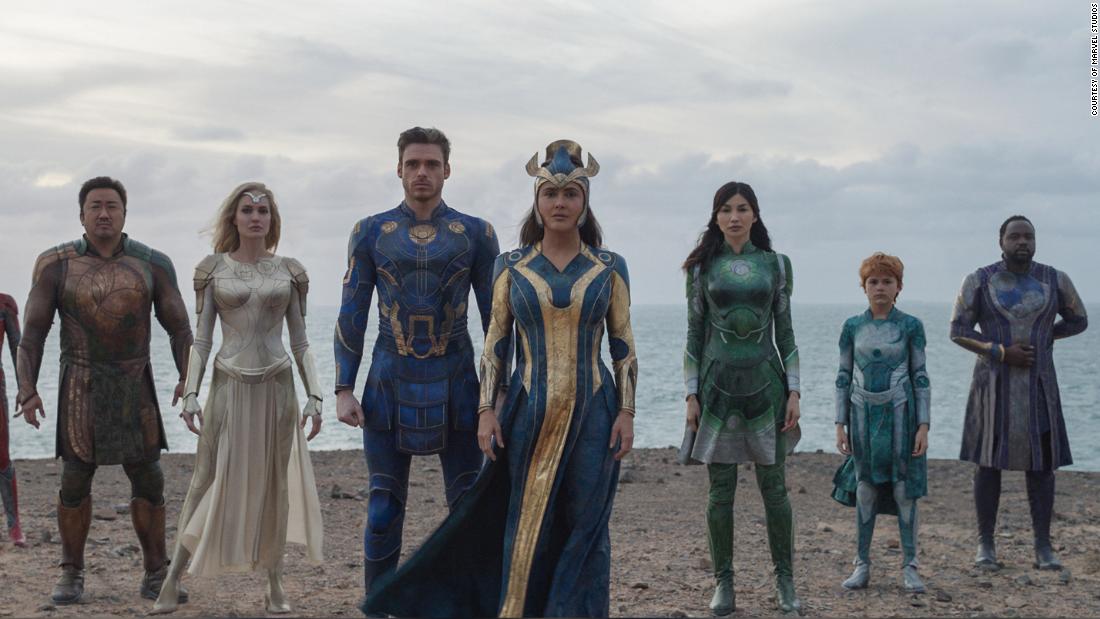 Phew.
Lucky for you, we've created an "Eternals" cheat sheet of sorts so diehard and casual fans alike can keep things straight. Here's what you need to know about the Eternals before the film's release on November 5. (This writer has not seen the film yet, but light spoilers from the comics follow.)
So … who/what are the Eternals?
The heroes are mostly immortal — even if their bodies are destroyed, they can live on in other ways. But they keep their powers secret since they live among humans.
They were sent to Earth by the Celestials, an ancient group of godlike beings, some 7,000 years before the events of the film to defend humankind against the Deviants, mutant monsters also created by the Celestials when some tests on early Earth-dwellers went awry. The Eternals are advised against interfering in non-Deviant business, instead acting as mere spectators to human conflict unless Deviants are involved.
While the Eternals have obeyed the Celestials until now, they're finally starting to question their mission and the beings who created them.
Like most protagonists in the Marvel Cinematic Universe who have gotten their own origin stories, the Eternals probably don't fancy themselves superheroes. But by the film's end, after they've undergone various transformations and vanquish various foes, they'll likely be among the most powerful heroes in the MCU, and maybe, the MCM — the Marvel Cinematic Multiverse.
Meet Marvel's 10 Eternals
Ikaris
Played by: Richard Madden
In the comics, the Eternals are often led by Ikaris, usually portrayed as a blond-haired, blue-eyed muscleman reminiscent of He-Man but with laser eyes. In some comics appearances, he's been named the Prime Eternal, or the Eternal who rules over the rest.
Who knew? In the comics, when he's in disguise as a human, he goes by the name "Ike Harris." Ikaris is definitely one of the brawniest Eternals, but creative, he is not.
Sersi
Played by: Gemma Chan
Powers: Matter transmutation. Basically, she can alter matter into any form she chooses (remember in the "Eternals" trailer, when she appears to dissolve a double decker bus into a parade of petals?).
Who knew? In the comics, Sersi joined the Avengers for a spell. Though she later quit the group full-time, she sometimes still helps them out when they need a hand from a godlike hero.
Sprite
Played by: Lia McHugh
Phastos
Played by: Brian Tyree Henry
Who knew? At one point in the comics, he took the codename "Ceasefire" — a nod to his stance against war. (No one tell him he's a superhero created to wage war against monsters!)
Thena
Played by: Angelina Jolie
Powers: Superhuman sparring. She's incredibly quick, strong, reflexive — a nearly unbeatable warrior.
Who knew? In the comics, she once had a dalliance with a Deviant leader named Kro, and their tumultuous relationship has hindered both the Eternals and their foes.
Ajak
Played by: Salma Hayek
Makkari
Played by: Lauren Ridloff
The speed runner Makkari has dashed all around the planet and is, frankly, bored by what she's found. In the film, the Eternals ask her to put aside her boredom for a few days to help them defeat the Deviants and save the world so she can traverse other planets.
Kingo
Played by: Kumail Nanjiani
Who knew? Kingo apparently fashions himself the star of the Eternals. Thena and Ikaris would like a word.
Gilgamesh
Played by: Don Lee
Powers: Indomitable strength. In battle, Gilgamesh employs a golden "exoskeleton" that protects his arms and fists and delivers devastating blows to enemies.
Druig
Played by: Barry Keoghan
Powers: Mind control. Druig can see into humans' minds and exploit their vulnerabilities. Yikes!
Bonus hero: Dane Whitman
Played by: Kit Harington
Source link