On Sunday, we brought you an interview with Madhur Bhushan (embedded below), the sister of the evergreen icon Madhubala, advocating that her apa (as she fondly called her sis) deserves a biopic and Bharat Ratna both. Said Madhur Bhushan, with a strong tinge of complaint in her voice, "It's been 53 years since my sister passed away, why couldn't anyone hold one event in her memory? Why couldn't one organisation give her a posthumous award? Why has there been no recognition awarded to her? Why wasn't she ever considered for a Bharat Ratna? Everyone says she was so beautiful and talented. Her beauty cannot be emulated. But if she was so special, why didn't anyone come forward and show her some recognition, why didn't anyone facilitate her or celebrate her legacy? Bollywood played a huge role in making Madhubala. It was Hindi cinema's directors like K Asif, Mehboob Khan, Kedar Sharma and stars like Dev Anand and
Raj Kapoor
who helped make her career. We can't ignore that. But we also can't ignore the fact that
Madhubala
needs an honour and a recognition."
Well, Madhubala remains a huge name till date and it is unlikely that its aura will ever diminish in stature and size. In this regard, it could be perhaps only fitting if she gets the double honour that her sister has pitched for. In fact, ETimes can now also tell you that of late, Madhur Bhushan has been trying high and low to get a filmmaker's nod for the biopic.

Our and Madhur Bhushan's sentiments apart, we believe that a large section of our country would join us in eschewing a similar sentiment. Biopics, anyway, have become the flavour of every season in Bollywood, haven't they? Plus Madhubala's life was quite a dramatic one, wasn't it?
The time was right to speak to the people who knew Madhubala personally or have someone in their family who'd interacted with her when she was alive. What do they think?

Senior actress Mumtaz, who arrived in Mumbai from London last week for a short stay before she flies out to Kenya to celebrate her birthday (July 31), got quite gung-ho while speaking to ETimes on this. "Why can't we have a biopic on Madhubala? She was breathtakingly beautiful and an actress par excellence. Such beauty and creativity should be rewarded. It would be justifiable if the maker who is given charge is a big fan of hers."

Endorsing that a Bharat Ratna should be bestowed upon Madhubala, late Shammi Kapoor's son Aditya Kapoor said that he would love to see a film on the life of Madhubala. It may be recalled that Shammi Kapoor had admitted that he was smitten by Madhubala big time. Shammi Kapoor, who first worked with Madhubala in the film 'Rail Ka Dibba' in 1953, had once spoken about how he was in love with the 'Mahal' star. Kapoor had said he knew that she was then in love with Dilip Kumar and yet he could not help falling in love with her. The 'Prince' actor also revealed that he kept forgetting his lines because he was immensely nervous to meet her, and Madhubala knew that this was the effect that she had on him; she later went on to help him with his dialogues.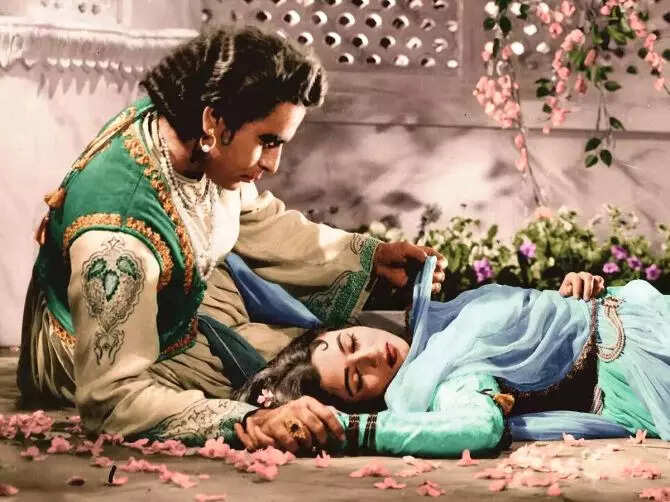 Said Aditya, "As far as a biopic on Madhubala is concerned, I would say that a biopic of great people is good for posterity; it maintains a record of what happened to them in the past. But I don't think Madhubala's personal life should be highlighted; in fact, her professional life would be interesting to watch."
Madhubala was married to Kishore Kumar when she breathed her last (February 23, 1969). What is Kishore Kumar's son Amit Kumar's point of view? Amit Kumar, when contacted, said, "Madhubala must get a Bharat Ratna. Also, a biopic on her would be great. She was a wonderful actress. Mere baba (my father) ke saath unhone takkar mein kaam kiya- be it 'Half Ticket', 'Chalti Ka Naam Gaadi' or 'Mahlon Ke Khwab'. I am sure people would love to see a film on her life." Incidentally, a biopic on Kishore Kumar is also in the works and Amit Kumar is putting it all together. "Both Madhubala and my father were colourful personalities," he pointed out.
While he does not root for biopics, why is he then setting up one on his father? Amit Kumar reasoned, "Well, everyone else in my family wants it and so I have deep-dived in ensuring that we go ahead but with immense care. My father was special; he had many personalities woven into one. It will not be easy to emulate him. A senior writer will be in charge of the script. And until we are sure that the script is doing full justice to my legendary father, we shall not start shooting."
Prior to marrying Kishore Kumar, Madhubala was in a passionate relationship with Dilip Kumar for nearly 9 years. "If you believe me, it was the 'Naya Daur' case that created wedges between them. Tempers flared and things got bad. Shayad Allah ko manzoor nahi tha aur unka pyaar khatam ho gaya," Madhur Bhushan had told ETimes in an earlier interview (embedded above). Mumtaz however feels that Dilip Kumar did not marry Madhubala because she wouldn't have been able to give him a child. "That's what I feel. You see, it was not possible for her to have a baby. The condition of her heart would not have been able to take a pregnancy. My sister-in-law had a heart issue and she took a chance; she delivered a baby but passed away two years later. I don't blame Dilip saab for that," Mumtaz said, and added, "My husband would have been in two minds if he knew beforehand that I wouldn't deliver. But yes, I know Madhubala's pain when she separated from Dilip saab. I have sat with her and so I know. Going forward however, I must say that Dilip saab was lucky to have someone so dedicated and caring like Saira Banu; the way she looked after him till his very end was to be seen to be believed." Did Dilip Kumar ever discuss Madhubala with her? Mumtaz and Dilip Kumar worked together in 'Ram Aur Shyam'. "No, we weren't so close that he would discuss his personal life with me. In fact, I owe him a lot for agreeing to work with a newcomer like me. He could have refused, but he said, 'No, she is good-looking, dances well and emotes well, we must take her'."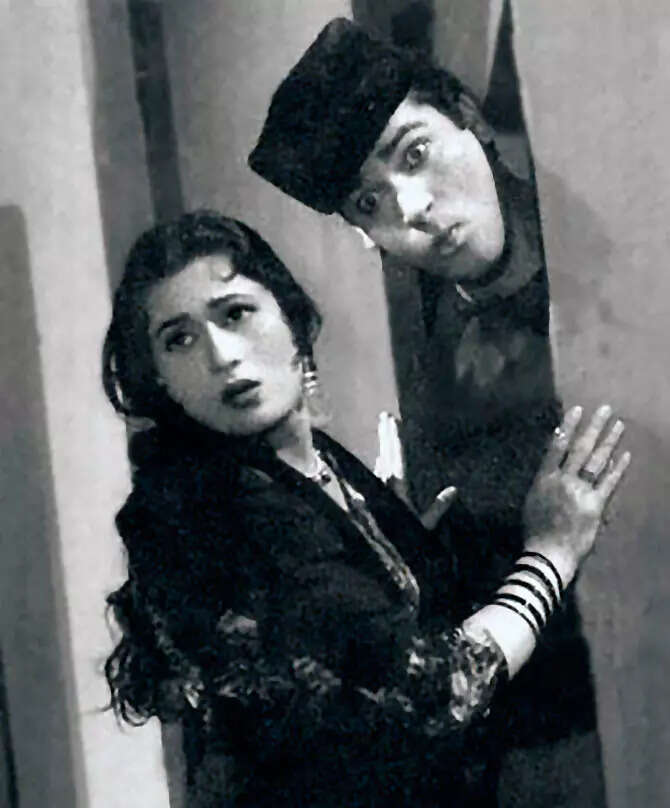 It was important to touch base with Saira Banu. Mrs Dilip Kumar however voiced to ETimes that it would be a big disappointment if anybody tried to get into Madhubala's shoes for a biopic. "She was so beautiful and vivacious. I don't see any actress today essaying Madhubala. Tell me, do you see one? " she shot back with a question.
Kamal Amrohi was another personality that Madhubala had interacted closely with, but not before she had an interlude with actor Premnath. Prior to Dilip Kumar entering her life, Madhubala was attracted to Kamal Amrohi. Like Saira Banu, Amrohi's son, Tajdar Amrohi was also sitting on the other side of the fence and not without a valid reason, when we called him. Tajdar said that Madhubala deserves a biopic but Dilip Kumar's wife and Premnath's family might be averse to the idea. "They might even object. So why make it and rattle them? Besides, who would know the real truth of every bit of Madhubala's life? Even Madhur Bhushan was not sitting with Madhubala for every minute of her life to know the intricate details. Who is around from that era who would really know every detail? In that respect, I feel you won't get the real picture." We also asked Tajdar if his mother was disturbed about Madhubala and Amrohi coming close. Pat came the reply, "Meri ammi pardah-nasheen thi. She knew that such things happen to handsome men and beautiful women in the film industry."
Again Tajdar differed, when asked about Madhubala getting the Bharat Ratna posthumously. "I think Meena Kumari (Kamal Amrohi's second wife) should be given the Bharat Ratna. Meena Kumari's last film 'Paakezah' (1972) made history." Also, unlike Madhur Bhushan who did not name Kamal Amrohi's contribution in Madhubala's career, Tajdar was clear that it was his father's film 'Mahal' that set the ball rolling for Madhubala. "Lata Mangeshkar ('Aayega Aane Wala') and Madhubala both rocketed away after Mahal," he reminded, rather categorically.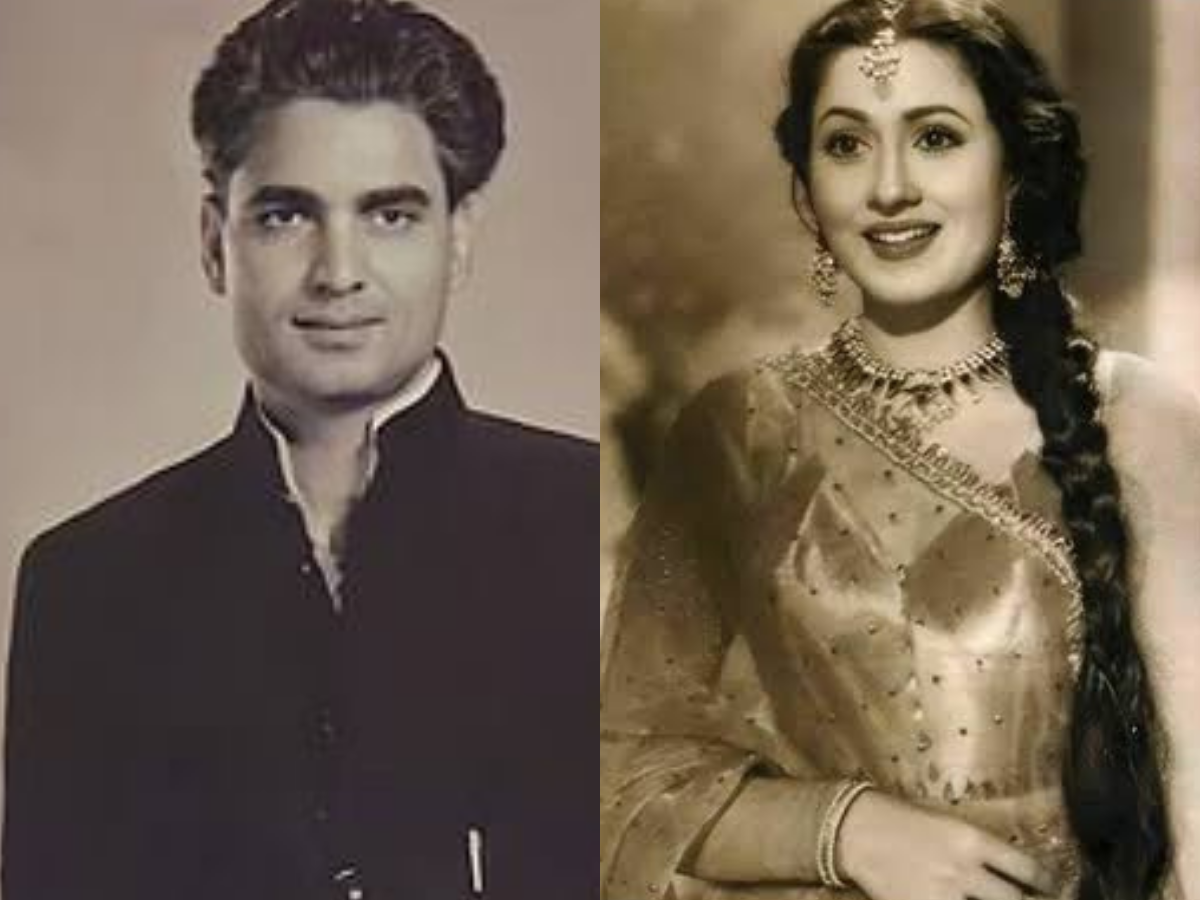 But if Premnath's children and Saira Banu wouldn't be raising the green flag to Madhubala's biopic, would Tajdar himself be okay with it? After all, Madhubala and Amrohi were in love with each other too. "Not really,' Tajdar admitted, "Plus, who from today's times can make a film of the intense love of those times, understanding those feelings? Today, love is buying tickets in theatres and cosying up in the corners of theatres. Today, love is going out for holidays together before marriage. Those days, it was all so pious."
But Tajdar quickly added a personal incident that happened with him when he was 6 years old, something that refuses to go away from his memory. Those days, Madhubala and Amrohi were up close and personal. Detailing the entrenched incident, Tajdar said, "Madhubala stayed near St Andrew's Church in Bandra and my school was just a few blocks away. I was passing by her house when her car came out and the driver beckoned to me that I should join them inside. Madhubala asked me about myself and my school and said that I should tell my father that I had met her. I did tell my father when I reached home in the evening- and he simply smiled. Madhubala knew who I was but honestly I did not know who she was, and in fact, I remember telling her that; we never used to see movies when we were 5 or 6 years old. But I must say, Madhubala was gorgeously beautiful. Even if you are 6 years old, you do realise what is beautiful and what is not."
However, Amit Kumar has no problem if Madhubala's personal life is depicted on screen. "Look, the only thing is that it should not be crudely made. If a director wants to do it nicely, he will do it. But I don't have a problem if my father Kishore Kumar's wife Madhubala gets a biopic. Wasn't her life an open book?"
The 64-million dollar question is: Why has Madhubala not got sufficient recognition? We asked this to senior producer Ratan Jain, who said that he wondered if it was due to the fact that Madhubala didn't have much support in the industry and outside. "But it would be difficult to zero down on the exact reason," he added. Another senior producer Pahlaj Nihalani agreed that Madhubala had been neglected and 'biopic toh banti hai Madhubala pe', but said there could be two reasons for that: "One, a film on Meena Kumari by the name of 'Meena Kumari Ki Amar Kahani' in 1981 flopped miserably. Two, biopics in olden days were not made; it is only now since a few years that they have become common."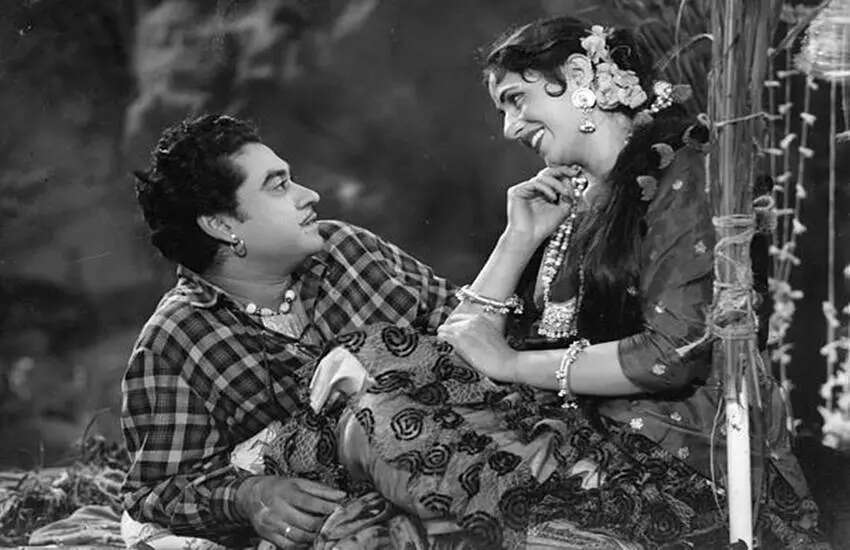 But, but, but… a lot of water has flown under the bridge after Madhubala passed away and it now remains to be seen whether the biopic on her sees the light of day or not. All said and done, a source now tells us that Madhubala's sister Madhur Bhushan should stop thinking that she should control the script and screenplay if she really wants the biopic to be helmed by a reputed director, because she has been doing just that in her meetings with filmmakers so far. "If Madhur Bhushan lends a free hand, producers and directors might come forward to put her elder sister's life on celluloid. Agreed she is Madhubala's sister but Madhubala's full story with all the twists and turns is out in public domain," says a source. ETimes further has it today that the sensitive director Imtiaz Ali who was originally supposed to be helming the biopic on Madhubala had got quite flustered when two of Madhubala's sisters (other than Madhur Bhushan) declined to give him permission to go ahead, and as of now, has no intention of revisiting this subject. The corporate giant who was tying up with Imtiaz then has also moved on.
At the time of going online, we received a call from Tajdar Amrohi, who said that he had connected with Madhur Bhushan on the phone. "She is clear that she wants the biopic to not ruffle any feathers. So, the personal angles will not be dealt in any way that may cause hurt to anybody. In fact, she was even okay if I could produce it. Let's see. She and I might meet after July 15 to talk about this," Tajdar concluded.