In a world where cheesy, heartstring-tugging plots have become the tried-and-true formula for most rom-coms, "Rye Lane" is anything but that. The comical Raine Allen-Miller-directed film, which debuted in UK theaters on March 17 and worldwide on Hulu on March 31, turns your typical meet-cute story upside down with a humorous South London-set tale that centers on 20-somethings Dom (David Jonsson) and Yas (Vivian Oparah), who serendipitously fall in love in a day after the two have a random run-in in a public restroom while reeling from heartbreak.
During the 2023 Sundance Film Festival, where "Rye Lane" first premiered, Jonsson tells POPSUGAR he thought the movie's script was "absolutely hilarious" when he first read it, while Oparah calls it "incredible." The actors, both London natives, are grateful for the chance to portray a unique love story that not only highlights two Black leads but pays beautiful homage to their hometown, too. "I thought South London playing the [main] character was gorgeous. I was really excited to see the eccentricities of South London captured in film," Oparah notes.
"I'd never read for a female character that was written so unapologetically messy and obsessed with fantasy."
The local appeal of "Rye Lane" wasn't the only draw for the acting pair. The fire-and-ice dynamic of their characters, the "unapologetically whimsical" struggling costume designer Yas and "very apologetic" accountant Dom, also stuck out to them. "I often describe Yas as a hurricane that spins past your life and sucks you up into it, and you're spinning along with her," Oparah explains, noting that she particularly loves her character's "messiness." "I'd never read for a female character that was written so unapologetically messy and obsessed with fantasy," she says.
Meanwhile, Jonsson believes Dom is "basically all the opposites" of his onscreen love interest, but in a way that positively contributes to "Rye Lane"'s modernized story. "I love saying that Dom knows what he wants to say, he just doesn't know how to say it," the actor shares. "He struggles with how to talk and saying what he means. I think he's stuck in this cycle of living life, and that's when the lovely Yasmin comes over and knocks him out of it."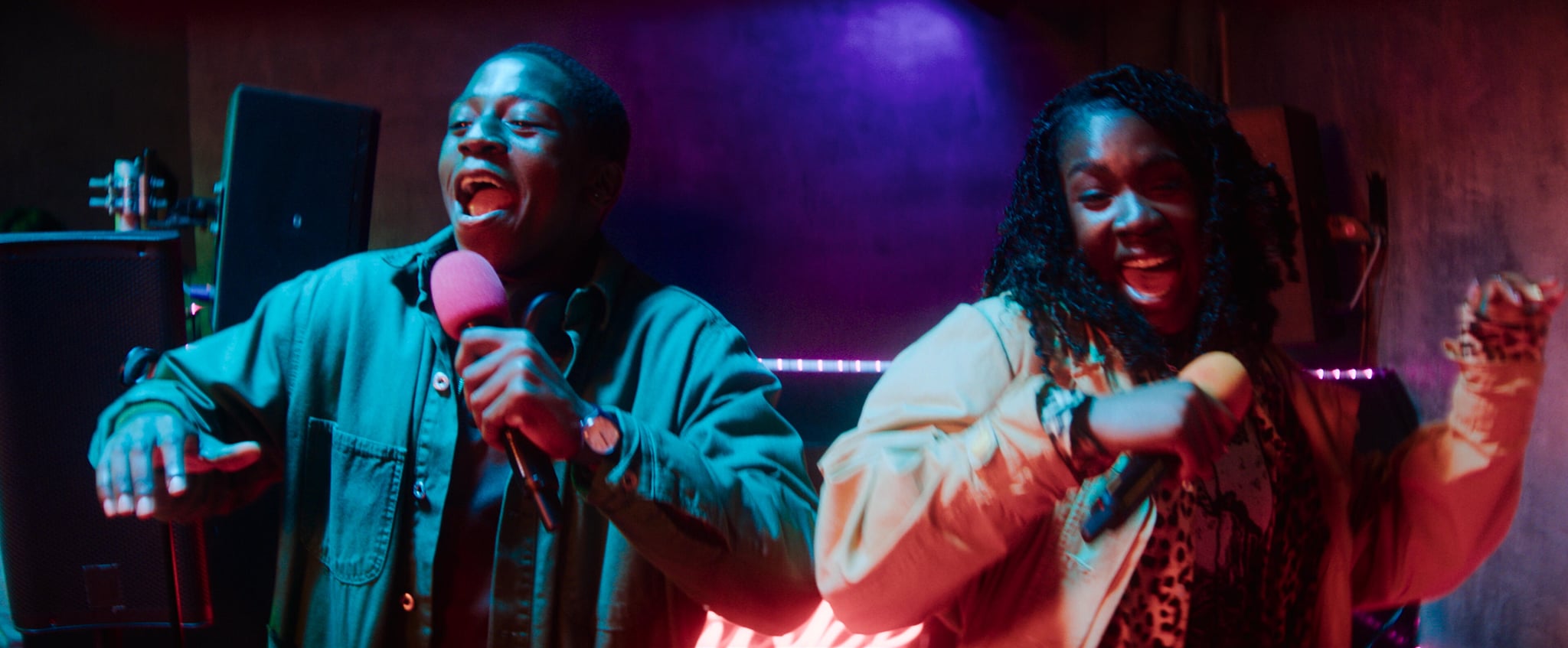 As Allen-Miller previously told POPSUGAR, the director set out to make a film that didn't prescribe to the "cheesy rom-com filter" she loathes, where actual humor can sometimes get lost in a love story. Instead, in "Rye Lane," the laughs are almost inescapable because there's a joke at every turn — from Dom crying over his ex-girlfriend while perched on a public toilet to Yas breaking into her ex's apartment just to retrieve her A Tribe Called Quest record. While "Rye Lane" clearly has all the makings of a great rom-com, it still goes against the grain because, as Oparah points out, the movie "takes the conventions of [the genre] and flips it on its head."
"I think taking a place and putting it under a microscope in the way that we did to South London, it becomes its own thing," she explains. "I compare it to a sci-fi or a fantasy because there's a lore in mundanity that Raine really, really highlighted. When you're part of that beast, it starts to feel like something else entirely."
"People always talk about these clichés of, 'It's not about the destination, it's about the journey,' but the whole film is about a journey."
But if you still find yourself comparing "Rye Lane" to familiar classic rom-coms, the cast don't mind — they take it as a compliment. "To make something that people go, 'Oh, that reminds me of this,' that's dope," Jonsson says. "Hopefully, we're doing something with the genre and bending it a bit."
No matter how much "Rye Lane"'s cast and director go back and forth about whether or not their movie should be considered a love story, they all agree they're pleased to see it come to fruition for audiences around the world. Despite it being a UK-centered film, they hope viewers take away some universal messages and understand the way "Rye Lane" is "pushing the boundaries on representation and the way we see things." "I'd love for people to just take that simple bit of 'there's still love in the world' and feel entertained," Jonsson adds.
Most of all, Jonsson and his costar want audiences to know that as much as "Rye Lane" follows their characters' unique romance, the film also touches on the importance of individuality and finding one's self — a theme that's sometimes forgotten about in the rom-com space, especially among young Black people on screen. "People always talk about these clichés of, 'It's not about the destination, it's about the journey,' but the whole film is about a journey," Oparah says. "And then you see [these] two people go on their own journeys, and that is just a lesson on vulnerability . . . Truth is clearly very liberating, and I think you see that through the script . . . There's a beauty to be found in the truth, and maybe that's a message that could be taken away, too."
"Rye Lane" is now streaming on Hulu.